"I want to sell my business…"
It's the terrible phrase that can sound the death knell of a valued long-term relationship, yet all accountants know what comes next: "how can you help?"
And, in that moment it can be converted from loss into opportunity depending on the response. The smart accountant will not only work as closely as possible with the business owner generate more business in the short term for the accountant, but if they are integral to the sale process, there is opportunity beyond the sale with the new owners and other parties met along the way.
Most accountancy firms do not have a corporate finance department, or if they do, can often be approached by clients who may not fit the services on offer. For the sub-£1m turnover businesses, the accountant has the chance to become the driving force behind a business exit, but only if they can add the missing services beyond their skill set and expertise.
If left to their own devices, clients end up engaging brokers or sale advisors, distancing their accountant, often to the detriment of the company in question, particularly when it comes to due diligence.
So, what can an accountant do when a company wants to sell up? Clearly they should be interested in helping their client with the choices to be made, and the advice that they will give along the way. In most cases they can help with some of the most important parts of the sale process from the information memorandum and business plan to the due diligence.
In an ideal world, the accountant would be able to continue working with their client and also proactively help them with the sale of their company. Which is why they like working with Firm Gains.
Why accountants partner with us
Flexible
The first reason is flexibility: we don't have a process into which we want people to fit nicely. There is much more choice than accountants think. We don't have an 8 point process, or 10 point plan. We don't push all clients through the same sausage factory.
We're not rigid, we tailor our offering to each client dependent upon what their needs are. Either their expressed needs, or based on our experience and recommendations. We can take businesses straight to market, or help them prepare, or perform a valuation to better understand the opportunity.
This works very well for accountants because their customers' needs vary, and they can work with an external advisor who builds the strategy around them and their client.
Independent
We are fully independent, meaning that none of our shareholders or
owners work for sale side companies. We have no vested interests or side deals, we are setup precisely to rebalance the market to help business owners become smarter and make better informed decisions.
What that means to accountants is that they feel comfortable when working with us, understanding that our only motive is that the customer receives the best service possible, without ulterior motive or agendas.
Transparent
We believe that working relationships are built on consistent communication. When working with accountants we keep in regular contact about the work which we are undertaking and how it is progressing.
Accountants who work with us find that they are as engaged in the process as we are, so that they have full visibility of what stage the sales process is at, and how it is progressing. We support them, they support the client, who then supports us. It is a virtuous circle.
Experienced
Our team of experts have many years of experience in both sides of the business sale marketplace. Setup and operated by entrepreneurs who have sold and acquired businesses, as well as having spent time working for some of the most respected advisors within the industry, we have seen both sides of business transactions.
And now, since establishing Firm Gains in 2014, we have helped over 500 business owners with their exit planning and business sale, working with a high level of professionalism and always seek out the best for our clients.
How we help accountants – what's in the bag?
We offer a wide range of services, many of which will be useful to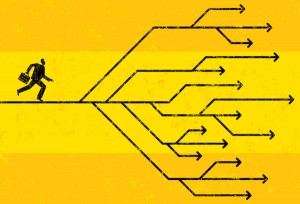 accountants who are looking to extend their offering to clients seeking sale or acquisition. Even if just a conversation, we can add value to any and every discussion.
Whilst this is not a definitive list of all on offer, here are some specific areas we can help you with:
Preparation
Going straight to market without any preparation is not advised, it would be like trying to sell your house without cleaning it first. We help our clients prepare their company for sale in the time available, making them much more saleable.
Whilst a skilled accountant is in a perfect position to help with financials, there are many other areas where we can help improve their processes, performance and profitability. We can also developing a forward-looking marketing plan to help them present the future to potential acquirers.
Valuation
If your clients want to receive a full market valuation instead of just a book valuation then we can help. Or perhaps you need an independent valuation as a sanity check. We frequently produce full market valuations for business owners from a wide variety of sectors.
Using our extensive knowledge of the business sale marketplace, we are able to calculate what a prospective buyer would pay for it in the open market.
Buy-side
Business owners also use acquisition to expand. This attractive route for ambitious SME's to growth can help them add scale quickly. However the ability to identify targets and open doors is a specialist skill we have, and we can help accountants support acquisitive clients throughout the process, from search to completion.
More Options
Other services which could be of interest are:
Straight to Market – we can put businesses who want to sell in front of over 30,000 actively acquisitive individuals and businesses to be able to quickly test the market with limited risk.
Exit Strategy – we can produce a fully fledged exit strategy for businesses who want to sell, mapping out the entire process and offering advice at every stage and indicating which parties are responsible for which parts.
Negotiation Only – we also offer services in negotiation, helping businesses to get over the line if they already have one or more buyers lined up.
If you want to speak with us about working together in the future, or to discover more about what we can offer your accountancy practice, then please call us on 0333 050 8225, we would love to speak with you.